The employee master in Tally.ERP 9 can be used record all employee-related information. You can capture not only general information consisting basic details of the employee but you can also enter Payment, Statutory, Expat and Contract details of employees. To enter Statutory related information in the Employee Master, enable the option Show Statutory Details in the Payroll Configurations screen.
When data is moved from earlier release to release 6.6.1, by default, all employees are grouped under Regular Tax Regime (old regime). You can change the tax regime details as per your requirement with revised applicable date as 01-Apr-2020 or later.
Create Single Employee
1. Go to Gateway of Tally > Payroll Info. > Employees > Create (under Single Employee ).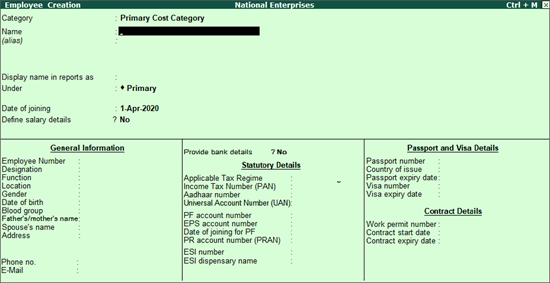 2. Enter the Name of the employee. By default, the system displays the same value in the Display name in reports as .
3. Modify the Display name in reports as , if required.
4. Select the Employee Group in the field Under.
5. Enter the Date of joining
6. Set the Define salary details? option to Yes , and press Enter to open Salary Details Creation screen.
Free Demo Available for All Products:
In the Salary Details Creation screen, you can specify salary details of an employee. The Salary Details Creation screen appears as shown below: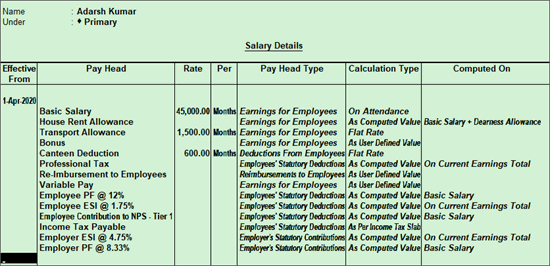 o The relevant Pay Heads from the List of Pay Heads in the Pay Head column, and enter values for the required pay heads.
o Define the salary structure, and press Enter to navigate to the Employee Creation screen.
7. Enter remarks, if any, in the Notes field.
8. Enter the employee General Information , employee's Bank Details for salary processing, Payment Details , Statutory Details , Passport & Visa Details and Contract Details.
In Statutory Details , you must select applicable tax regime and enter the Income Tax Number (PAN) , Aadhaar Number , Universal Account Number (UAN) , EPS Account Number, PF Account Number and ESI Number . This information is required for printing Employee Count (No. of Employees) in the PF & ESI Challans and other Statutory Reports.
To update the Permanent Retirement Account Number (PRAN) of the employees covered under the National Pension Scheme (NPS), enable the Applicable for NPS? option and specify the PRAN in the PR Account Number field.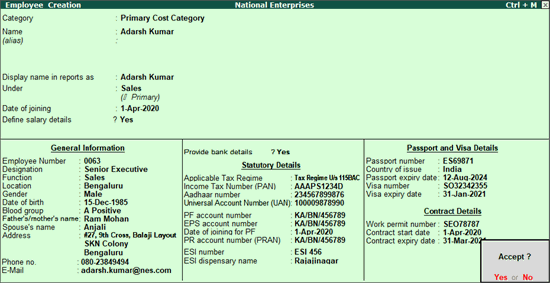 9. Press Enter to save.