All Business big or small requires more than a cash record to ring up sales and accept payments. Point-of-sale (POS) system records sales data, accomplishes inventory, produces reports, and stores customer data. If you are in the market for your first POS Software in Dubai, UAE, or considering upgrading to a new one, it's puzzling to choose which one will be the exact fit for your business.
The top POS systems do much more than just process sales and accept payments. They make it stress-free to run your complete business, with features that support you analyse sales data, track inventory, bond with customers, and manage workforces. They include or have incorporations for email marketing, loyalty plans, and other competencies that restructure developments and save your time.
Here are Top 10 POS which are best options for all kind of business
Elate POS
Elate POS software offered by Peniel Technology, Dubai guarantees a quick and easy method to bill with constant data synchronization. This software is being used by the top retail companies in Dubai making it the best POS software in the market. In addition to being a very efficient POS Machine in Dubai, UAE, it delivers dominant functionalities. The software wrap essential solutions with value-added features like Sales monitoring and recording, both for store operations and back office, maximizing performance and KPI reporting, cloud reporting and data backup, inventory, and stock management and returns, refunds, and store credit features. This best POS provider offers reliable customer support that you can contact around the clock.
Reach POS
Reach Accounting Software offers modules for accounting, POS, and CRM. The best part about Reach is all the industrial processes are bundled in single software so that the business holder can track every aspect of the business. It is web-based and supports you stay connected by controlling all your outlets when you scale. This will lessen your purchaser billing time, rise satisfaction, and expand your efficiency.
Omega POS
Omega Software is a prominent worldwide Point of Sale company providing solutions for hospitality and retail businesses. It offers POS and Enterprise Management Solution to table service, delivery, fast food, fine dining, restaurants, hotels and resorts, and all kinds of retail environments. It is a powerful and easy-to-use software that helps companies save time, increase productivity, achieves their needs more excellently to keep up with the rapidly changing world.
Ari Retail POS
Ari POS System provides customizable access which lets you choose what data could be accessible to the cashier and what is necessary to remain hidden. To decrease the barriers of different payment methods, this POS permits making the payment through different payment preferences such as debit, credit, gift card, and loyalty points, etc. It has unique features of real-time synchronization, many tenders for one sale, employee shift management, cash drawer constraint. This is full-fledged software by which one can conduct businesses efficiently.
Focus POS
Focus POS is a cloud-based POS system in UAE. It is full-fledged retail management software with elements that shield every phase of retail stores and custom-made for companies operating. The retail POS system is perfect for single and multi-location stores and can be incorporated with third-party systems for smooth processes. Through cutting-edge modules for billing, finance, and inventory management, it is one of the best POS software with VAT features and mechanized options to file incomes.
Touche POS
It is a flexible restaurant POS software solution for independent and multiple foods and beverage service operations. It can be arranged to meet the requirements of different sub-segments of the business. This POS has contactless ordering and billing features that permit businesses to offer safe dining solutions to customers.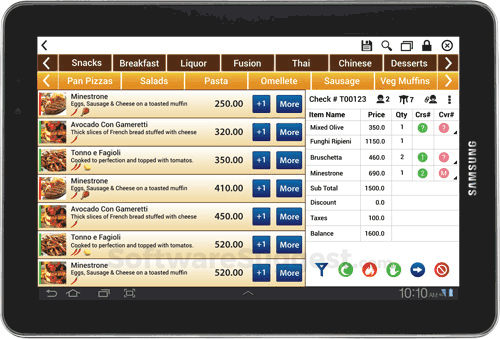 Invo POS
Invo POS is a touch-based restaurant Point of sale system that customs the cutting-edge technology to take the restaurant operations to the subsequent level. Invo POS comes with numerous excellent features to help you control your productivity. Easy to use system, complete touch support, fully customizable, employee and time management, multi-language interface, different payment methods, support different currency are some of the features that make you choose this software.
WINHMS POS
The WINHMS Point-of-sale (POS) system has been installed in a variety of restaurants and bars both in individual form and with integration to the ERP. The POS system comprises interfaces to maximum mainstream front office organizations. It creates bills by pulling up the table or room number when required. Bills are automatically sent to a room within the property and are reassigned to accounting systems.
ToucheLite POS
ToucheLite is exceptional in the quality of its reporting. ToucheLite delivers features like POS invoicing, transactions of restaurants, etc. Touché Lite POS software compromises the most comprehensive and valuable set of effective and analytical reports. It can be hosted in the cloud and accessed using broadband internet.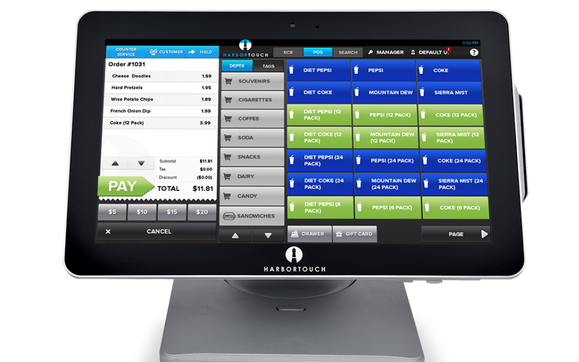 iPad POS
iPad POS system can be used on iPad. It can be a tool for improved customer service by helping you in streamlining the sales process. It has unique features for inventory and customer management that increase the efficiency of the business. Features like inventory management, email receipts, etc. by helping companies save time, increase productivity, and achieves their needs more excellently
How to Select the Best POS Software?
So, you have seen a lot about point-of-sale (POS) software. You know what your business is, and now it is time to pick a POS system that suits your requirements. Created with continuous iterations, the list of best POS system software is listed above. When it comes to your retail inventory system, accurate tracking must be a significant factor in your retail point of sale resolution. Peniel Technology's Elate POS System in Dubai, UAE is highly suitable for retail stores in the business. Product ordering, delivery, and inventory count turn out to be instant, stress-free, and up-front with Elate POS software.